Vol. 31 November 08, 2023
KELLY SOLUTIONS
We have the Solutions for Your Cleaning Needs
Pressure Washing in Ventura County
It seems like we are truly in the swing of the Fall and with this season comes some amazing changes to our environment. The leaves change color, the evenings become cooler, and it makes us want to get our favorite sweater on and enjoy what the season has to offer! But what is this? Your patios, pathways, and driveways are covered in a thick layer of dirt and debris. You remember that last night the Santa Ana winds were strong last night, and now everything is covered in leaves and dust… Well no need to worry, Kelly Cleaning is here to clean up and make your space look and feel amazing!
Just recently our Technicians were tasked with pressure washing different areas throughout Ventura County. Some of these places include a driveway for a residential home and the front o a business in downtown Ventura! Our Technicians are trained in every and all services that Kelly Cleaning has to offer and they are up to any challenge no matter how big or small the job is!
Pressure washing wasn't the only service that our technicians performed at these locations. No, the pressure washing was just the cherry on top of the other services that we performed while on site. These services included window washing and post construction clean up.
Whatever cleaning service that you need, Kelly Cleaning can deliver and with your satisfaction guaranteed. Call and schedule your next service with us at (805) 644-5308!
Creating the perfect Thanksgiving Table
Thanksgiving is a time for gratitude and feasting, and setting up a welcoming food table is essential for a memorable celebration. Here's how to create a spread that's as delightful to the eyes as it is to the palate:
1. Plan the Layout:
First, choose a spacious and central location for your food table. It should be easily accessible from all sides, encouraging flow and conversation among your guests.
2. Layered Tablecloths:
Start with a festive tablecloth as your canvas. Layering textures or colors can add depth and visual interest.
3. Elevate with Risers:
Vary the height of your serving plates using risers or decorative boxes. This adds dimension to your table and makes the food more visually appealing.
4. Strategic Placement: Arrange your food in a logical order. Start with appetizers, followed by sides, the turkey or main dish, and finally, desserts. Keep like items together for easy navigation.
5. Cohesive Decor:
Choose complementary decor, like candles, pumpkins, or autumn foliage, to create a cohesive theme. Incorporating seasonal colors, like warm oranges and browns, adds to the festive atmosphere.
6. Thoughtful Serving Utensils:
Provide the appropriate serving utensils for each dish to ensure smooth self-service. Labeling dishes can be helpful, especially for complex dishes or to indicate dietary considerations.
7. Keep it Fresh:
Regularly replenish dishes to ensure a bountiful spread throughout the gathering. Use chafing dishes or warming trays to keep hot foods warm.
8. Enjoy the Process:
As you prepare your table, remember the heart of the holiday – spending time with loved ones. A well-set table sets the stage for warm conversations and shared moments, making your Thanksgiving truly special.
Sláinte (slawn-cha) = Cheers
October's Cleaner of the Month award and winner of the $50 grand prize goes to…Emma Callejas! Sláinte to Emma!
Emma is a wonderful cleaner and a wonderful person to work with! Like many of our cleaners, Emma goes above and beyond in her work and is always willing to take on any challenge. She is someone that we look to when we have a particularly difficult situation or just when we need a heavy hitter in the cleaning industry!
Let's give it up to Emma! Sláinte!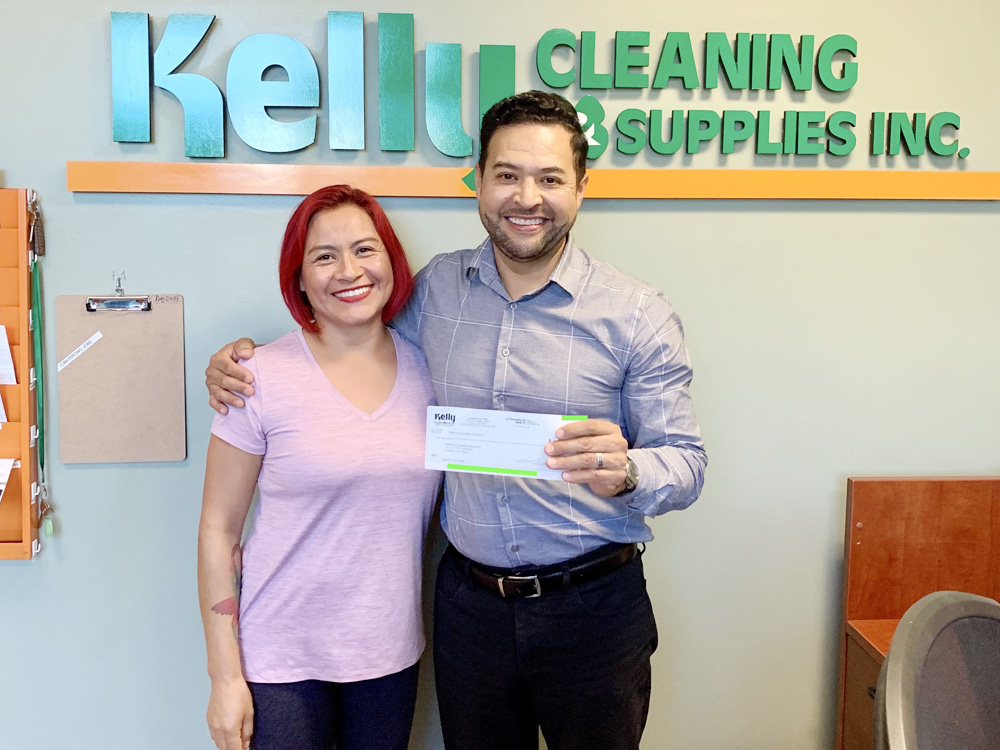 Visit our Kelly Tech Center for all of your cleaning needs at 2300 Knoll Dr. STE B
Visit our Ultimate Rug Spa at 1445 Donlon St. STE 2
Kelly Tech Center
2300 Knoll Dr. Suite B
Ventura, CA 93003