We all know the importance of a good first impression, and the same can be said for businesses. After all, your business' exterior appearance is often the first thing potential customers will see. That's why regular upkeep is necessary to keep things clean, professional, and presentable.
Even with ongoing maintenance, however, dirt and grime can build up over time and can keep any property from looking its best. Fortunately, pressure washing is a fantastic way to remove this buildup and various types of debris.
With 40 years experience providing Ventura and Santa Barbara counties with the best commercial cleaning services, Kelly Cleaning understands the importance of your business' appearance, and how to use pressure washing to beautify and restore any property. Here are 3 great reasons to use our pressure washing service.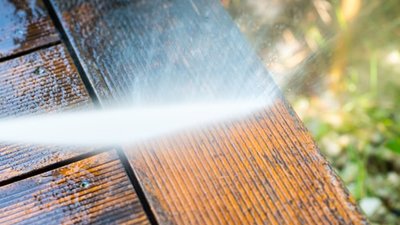 Cleaning Surfaces
Pressure washing is an excellent way to prepare most surfaces for painting or sealing. Paint will adhere properly only if it's applied to a clean surface, and pressure washing is an effective way to remove loose paint and hard-to-clean dirt, moss, or algae from most surfaces.
Beautifying Exteriors
Nothing can give your property a makeover quite like pressure washing. The powerful jets of water can eliminate tough stains, rust, and gum, making sidewalks, parking lots, and stairs much more attractive. Oils, grime, and even graffiti can be removed with ease thanks to the magic of pressure washing. Whether you need to clean up concrete, wood, or brick, pressure washing can restore any building to its original beauty.
Eliminating Hazards
Buildings, garages, and other structures are constantly exposed to the elements, and that can sometimes lead to hazards like mildew or pests. The last thing any business needs is for customers to be attacked by wasps or slip on grease in a parking lot! Our professional cleaning crew knows how to carefully and fully eliminate such hazards to keep your property safe and inviting.
Conclusion
As you can see, pressure washing is a versatile and powerful tool that can effectively remove all sorts of unsightly substances from your commercial or private property. Whether it's in preparation for a new paint job or to keep your building looking fresh, pressure washing gets the job done. When you're running a business, we know you're far too busy to worry about how to maintain the appearance of your building, and pressure washing is not a task that should be performed by individuals without proper training and skills.
If your home, office, or commercial space has developed oils, residues, grimes, mildews, moss, rust, paint, or other debris and staining, please contact us to discuss pressure washing.