There's nothing more fun than constructing a new building or renovating your home, but what to do when the job is finished?
Construction sites are dusty and dirty, and standard cleaning crews aren't equipped with the tools and knowledge necessary to make the space sparkle and shine without damaging surfaces and scratching windows. Kelly Cleaning, on the other hand, specializes in post-construction cleaning, post-renovation cleaning, and post-remodel cleaning. You can rest easy knowing that our crews can handle any project of any size, whether it be high-end private construction projects, government buildings, schools, military sites or apartment complexes.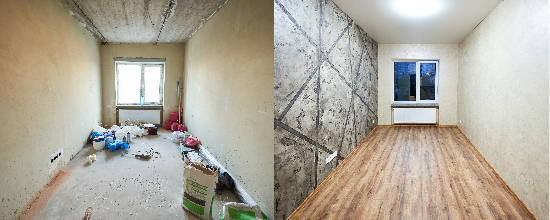 For each post-construction cleanup, Kelly technicians provide all encompassing cleaning down to minute fine detailing of every surface.
We pay attention to every detail, visible and invisible, by a variety of methods, including using HEPA filtered vacuums to trap airborne particles and using microfiber cloths on surfaces to protect them from scratching while thoroughly cleaning. The first step into a new house or office is the most important, and Kelly Cleaning will provide you with the immaculate cleaning that your project requires.
Kelly Cleaning has over 40 years of experience providing cleaning services to Ventura County, Santa Barbara, and Santa Clarita.
We are equipped with everything you need from a cleaning service, we are licensed and insured, including $2 million in Liability Insurance with a $2 million umbrella, Workers Compensation Coverage, prevailing wages (for those projects that require it), full supervision, and the proper protective materials and equipment for our workers.
While other cleaning companies may leave fingerprints, footprints, streaks, or other evidence behind, we triple check every room, wall, floor, fixture, and surface to make sure it is cleaned to our high standard.
We go above and beyond to make sure we thoroughly beautify difficult to access areas, such as skylights, so everything will pass the white glove test. With our experience cleaning thousands of projects, we know what to look out for, and what kinds of marks and debris construction crews, electricians, plumbers, and painters tend to leave behind. We put our magic touch on every project to ensure it looks showroom-worthy when we're done.
Give Kelly Cleaning a call at (805) 644-5308 to schedule your post-construction cleanup. We look forward to giving your project the attention it deserves!