KELLY SOLUTIONS
We have the Solutions for Your Cleaning Needs
At Kelly Cleaning, we take pride in how talented our technicians are in all fields of cleaning and maintenance. Over the past month Kelly has not only had one, nor two, but three cleaning classes. Although we have had some of our technicians working for Kelly Cleaning for over 25+ years, there are always new methods and equipment that we implement as soon as we can. We also have some new faces that are still learning the ropes and are just as eager to learn as our seasoned technicians.
Just like every industry there is always room for improvement, growth, and innovation and we here at Kelly Cleaning in the cleaning industry have no exception. Kelly Cleaning has led and is still leading the cleaning industry in Ventura. Kelly Cleaning has always been a leader in implementation of new technology; such as having the first truck mounted steam cleaning units back in the 70's, becoming the first certified green cleaning company in Ventura in the early 2000's, and lately being able to have a Rapid Response Remedial team to fight off COVID-19 with the latest and greatest equipment;
and that is just to name a few of the services we started.
All of these services mentioned above are still being performed to this day and all of our technicians have been taught by our in-company leaders. Like mentioned before, Kelly Cleaning recently held three classes: A restroom cleaning class, a window cleaning class, and a tile cleaning class. These classes were offered to refresh the minds of our seasoned technicians & further increase the knowledge of our newer technicians. But, Kelly Cleaning also shows new techniques, equipment, and updated cleaning supplies that have recently been invented and that we will begin implementing.
If you are interested in these services or if you want to learn about the rest of our services, please check out our website at www.KellyClean.net or give us a call at (805) 644-5308 where we will be more than happy to explain what it is that we can do for you. Don't forget to look for the newsletter special to receive a $35 coupon on any service. 

Sierge, I have wood floors in my home with so many heel marks from guests that don't know how to pick up their feet… I use a very expensive product to remove these marks, but it's starting to break the bank. Do you have something that can save my floors before Thanksgiving? - Scuffed Floors in Santa Barbara
Dia Duit! Scuffed floors you say, well I have something that will definitely be able to help you make your floors sparkle with holiday gleam! I personally use my own product Shillelagh Hardwood & Laminate  Floor Cleaner to beat those devilish marks out of your floors.
This product does everything that Bona will do, at a fraction of the price. Pick up a gallon of Shillelagh at our Kelly Tech Center for $10.75. It's a certified green cleaning product that is as easy to use as any other floor cleaning product. All that ye have to do is: Vacuum or sweep your floors, lightly spray an 8' by 8' area directly from a bottle, and wipe clean the area 
using a cloth or mop. If there are any stubborn marks, spray directly onto the area and with a little bit of scrubbing, your floors will be looking as good as new.
Come to 2300 Knoll Dr. Suite B and we can give a live demonstration of this product in our warehouse showroom and any other product that we have in store!
If you have any questions that you would like me to answer, please feel free to email me at

KellyTech@www.kellyclean.net

.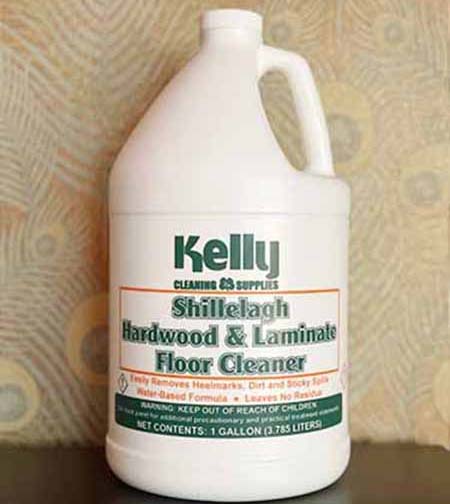 Sláinte (Shlon-che) = Cheers!
This month's Cleaner of the Month and the $50 grand prize goes to… Drum roll, please… Antonio Diaz!
There are many great ways to describe Antonio Diaz and we will try our very best to describe how overwhelmingly fantastic Antonio is. Antonio has been working with Kelly Cleaning since March 2016 and he has done nothing but be a huge benefit to our Kelly Technician Crew. He comes in with a smile on his face and always is willing to go above and beyond in his line of service. He ensures that every job and every detail is done correctly or he isn't satisfied until it is. Antonio is constantly receiving
praise from our clients for how satisfied they are with his work and professionalism! But he's not only a great cleaner, he is also one of Kelly Cleaning's great photographers! He knows how to find the correct angle, have the perfect lighting, and make sure that he looks good in all of his photos! His photos show how proud he is to be a Kelly Technician and we are proud and grateful of his loyalty, determination, and willingness to keep Kelly Cleaning professional and friendly as possible. 
So the next time that you see him, make sure you give him a pat on the back for all of the wonderful work that he does. He's ultra friendly and always ready for a quick chat! 
Please enjoy some of the photos that he has taken over the years! Sláinte to Antonio!
Ladies & gentlemen, we are finally starting to see the light at the end of the tunnel. We have been trying our best to finish our 1+ year project and we are finally seeing something that resembles a functioning place of business. The photo below is just a sneak peak at what is to come.
We are still on track for what we have estimated that the building will be finished at the end of the year. We are still functional and efficient at performing our rug cleaning tasks as our equipment is currently two doors down in our operations center. So please bring your rugs into our 1445 Donlon St. Suite 4 location if you have rugs that need cleaning. But when you are ready to have your rugs pampered by our Rug Spa, check back in at the end of the year where our new Spa will have your rugs say Ahhhh…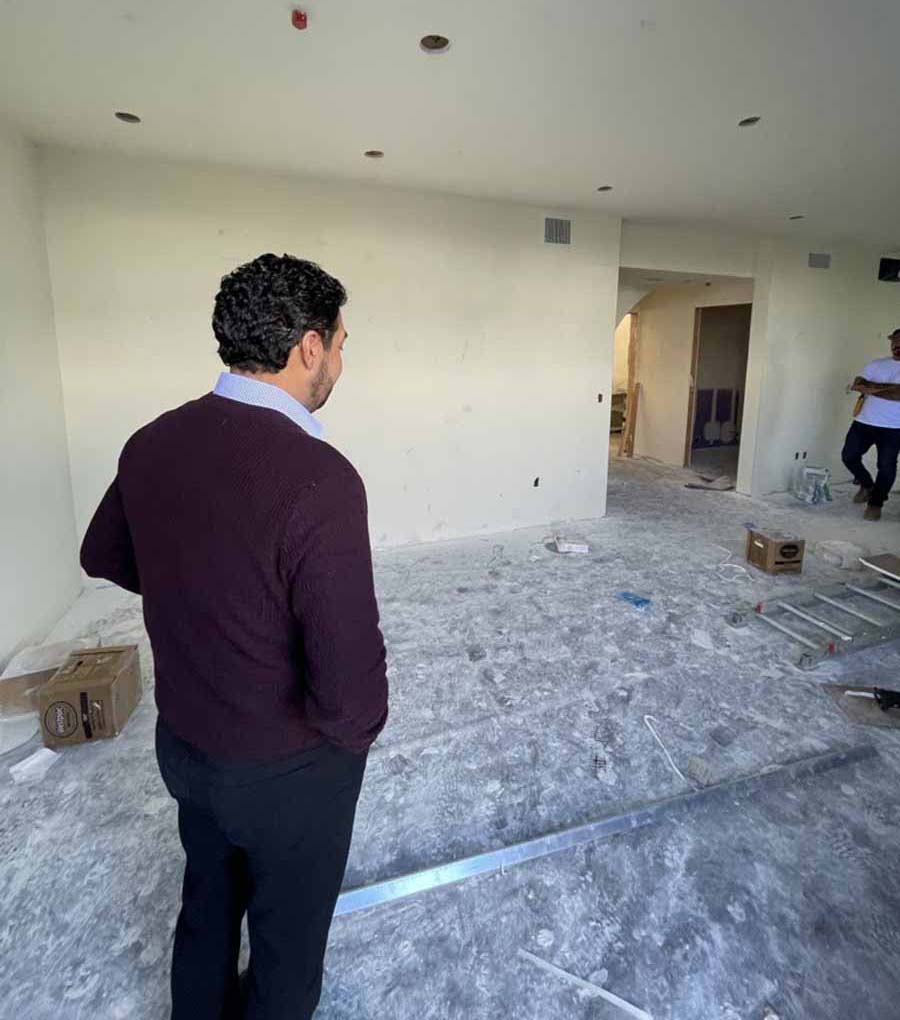 November's Product of the month is Blarney Buster! The multi-purpose cleaner that has almost every area covered!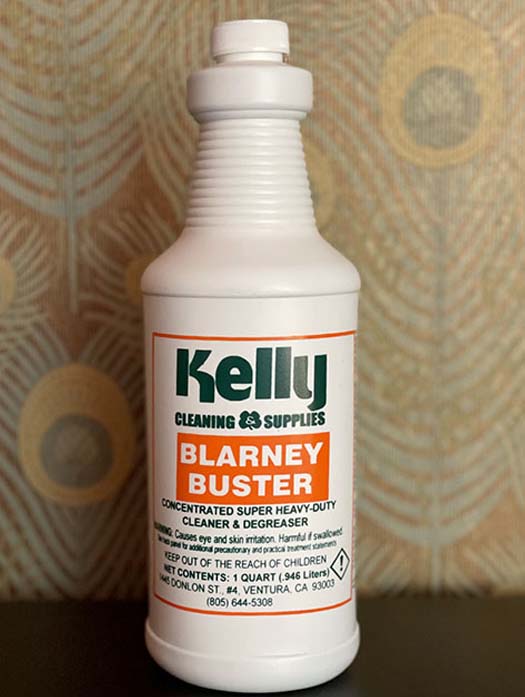 Blarney Buster is the product that everyone needs at some point. This solution can be used in many different applications such as: Mopping, pressure washing, spraying and wiping, industrial, institutional, and commercial cleaning facilities.
Blarney Buster is a highly concentrated and highly efficient formula that is able to remove any difficult soils. This product can be used in general cleaning like in mopping waxed floors, cleaning heavily soiled concrete, and cleaning walls or woodwork. Just make sure to follow the proper dilution instructions for the best results.
Blarney buster can also be used in cleaning heavily soiled kitchen areas as well as removing industrial grime with power washing equipment. Follow the proper dilution and rinsing procedures to achieve that squeaky clean finish that everyone so desires!
Visit our Kelly Tech Center at 2300 Knoll Dr. Suite B in Ventura and pick up a gallon for $11.45 or a quart for only $5.40! One of these sizes will be able to last for many applications and make your life easier!
Newsletter Special
Mention our newsletter and receive a $35 dollar coupon on your next service!
Visit our Kelly Tech Center for all of your cleaning needs at 2300 Knoll Dr. STE B
Visit our Ultimate Rug Spa at 1445 Donlon St. STE 2
Kelly Tech Center
2300 Knoll Dr.Suite b
Ventura, CA 93003