KELLY SOLUTIONS
We have the Solutions for Your Cleaning Needs
The Ultimate Rug Spa: Ventura's Best Rug Cleaning Service
Late in the month of April, Kelly's Ultimate Rug Spa had its soft opening. After several weeks, adjustments, and careful planning, we have finally decided on a grand opening date which will be June 15, 2022!
Although our completion date had to be pushed back numerous times, looking at the progress of transforming an empty shell of a building into something that we are so proud of. Please enjoy the pictures of the creation of the Ultimate Rug Spa! 
We are excited to finally open our doors to you after so long in the making. And just in case you don't remember what the Ultimate Rug Spa offers in terms of services, let me remind you. The Ultimate will offer a premium rug cleaning service with our latest and greatest equipment imported from Turkey, upholstery steam cleaning, and odor removal from rugs and furniture.
This is just the beginning of the services that the Ultimate Rug Spa will provide with hopes of adding more in the future. Now for you, our dear reader, we would like to reward you for taking an interest in the Kelly Solutions and we would like to offer a special discount for being our first guests at our spa. We will offer a 20% discount off your first rug cleaning with a money back guarantee if you don't like the results of our services. Kelly Cleaning is confident with our expertise in all things rug cleaning, upholstery cleaning, and odor removal that we offer you the best cleaning service in Ventura County.
Call now at (805) 644-0846 to schedule your rug's or furniture's spa appointment or visit us at www.KellyClean.net/our-services/ to check out what else Kelly Cleaning has to offer!
Hi Sierge, I have carpet beetles in my rug! Where did they come from and how do I get rid of them?
– Michael R.
Dia Duit! It seems like there could be a serious problem going on. But no need to worry, if we act quickly we can get this situation taken care of just as fast as possible.
If the carpet beetles are solely on your rug, then we seem to have some luck on our side as carpet beetles like to lay their eggs deep in textile fibers or near food storage areas. First, drop off your rug at the Ultimate Rug Spa where we will perform a thorough inspection to see if there is a nesting problem within your rug. From there we will treat your rug to a deep cleaning to kill and remove any living carpet beetles and their brood. After the deep cleaning, we will treat your rug with a bug repellent to ensure that they won't return for some time. 
As for the rest of your home, we recommend that you check to see if there are holes or small gaps in your window or door screens. 
If there are holes in your screens, Kelly Cleaning can repair your screens. Carpet beetles are able to squeeze through tiny openings under doors or window screens and make their way into your homes.
Next, we recommend that you give your carpets and furniture a thorough inspection to spot any beetle activity. If you do see anything, Kelly Cleaning can clean your upholstery and carpets with our truck mounted steam cleaning units. The high heat and power extraction from our equipment will be enough to exterminate and remove any carpet beetle activity.
Below are what some of the common carpet beetles look like in California. If you need any assistance with carpet beetles, give Kelly Cleaning & Supplies a call where we can help you remove these tiny pests from your rugs, carpets, and upholstery.
April's Cleaner of the month $50 award goes to Enrique Cuellar! Slainte to Enrique!
Enrique and his team have been working with Kelly Cleaning for over 10+ years! The reason why he is receiving this award is for his outstanding services and his constant high praise from the locations that he provides janitorial services.
Enrique has continued to be one of our most dependable cleaners that we never doubt. He is dutiful with his work, he is consistent with his service days, has superlative communication skills and always has a great attitude!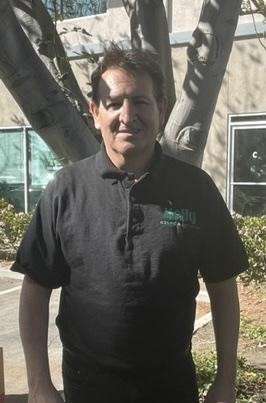 If you know of an office that is looking for reliable janitorial services, request Enrique and his services. Call the Kelly Tech Center and we will be happy to try to schedule him to be your cleaner if he services your area!
Let's give it up for Enrique Cuellar! Way to go and keep up the great work!
May's service spotlight will be dedicated to services that are often overlooked when it comes to general home or office maintenance. These services are stone and tile maintenance.
We all know how easy it can be to quickly wipe down our counters or our floors, but are you doing the most to increase the longevity of your precious stone countertops or your nicely laid tile floors? There is also a misconception that stone is "stain-proof." But in fact, all stone is porous and should be treated with care and high-quality protective sealers. The best way to keep your stone or tile looking great is by using Kelly Cleaning's stone and tile maintenance or restoration services.
We have trained our technicians in identifying each type of flooring or stone work and the proper way to treat them. Kelly Cleaning just hosted a class on how to polish marble or create a clean and even honed look for the precious stone. Just look at the pictures below, we can clearly see the perfect reflection of the lights above on the polish or nice matte appearance. But it doesn't stop there, we clean every type of flooring with extreme precision with a satisfaction guarantee! Look at our Kelly Technicians in action!
Kelly Cleaning knows the right way to clean your hard surfaces! If you are interested in our stone and maintenance services, call (805) 644-5308 to schedule an inspection of your stone or tile. If you are interested in our other services, visit our webpage www.KellyClean.net/our-services/ to learn more about what we can offer for you.
The yellow line and Kelly Cleaning Stone maintenance class. We can see a reflection of our ceiling lights and our sky light on the polished side and a nice matte finish on the right side.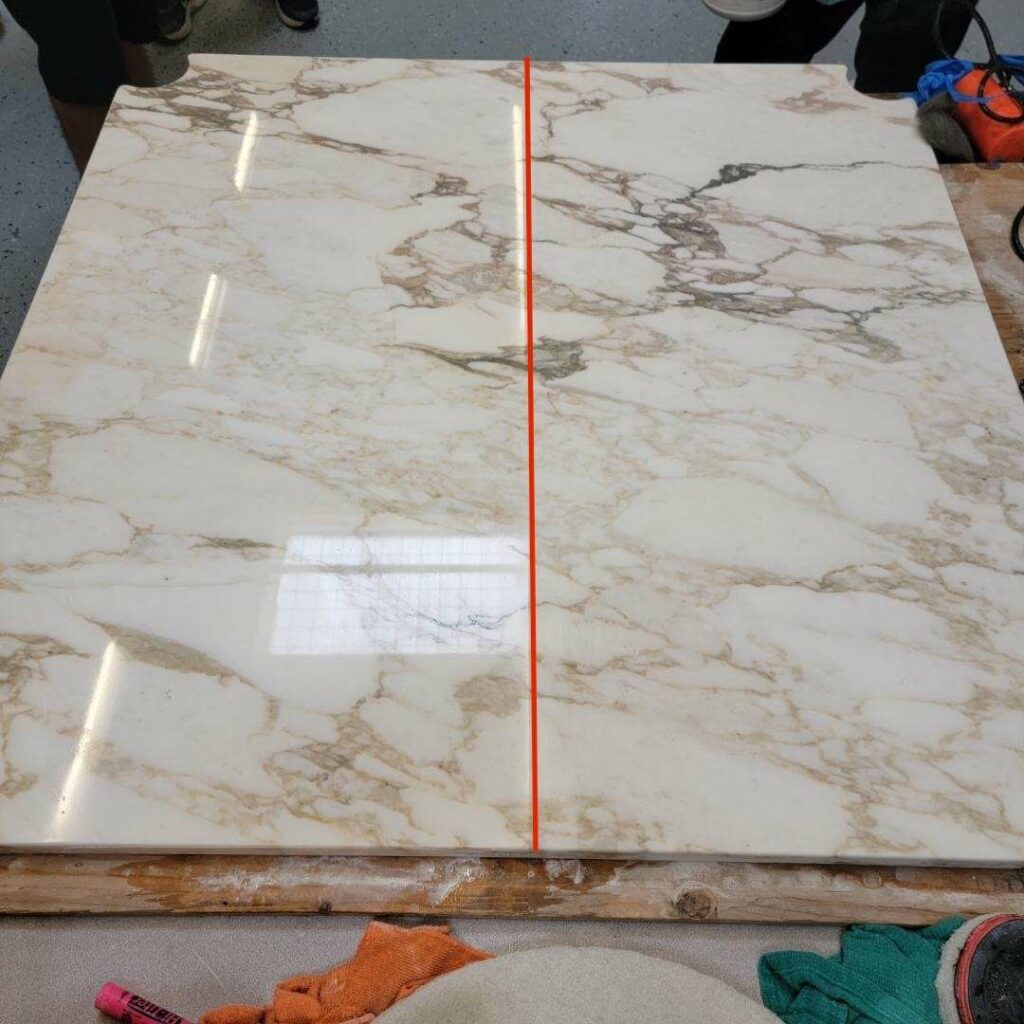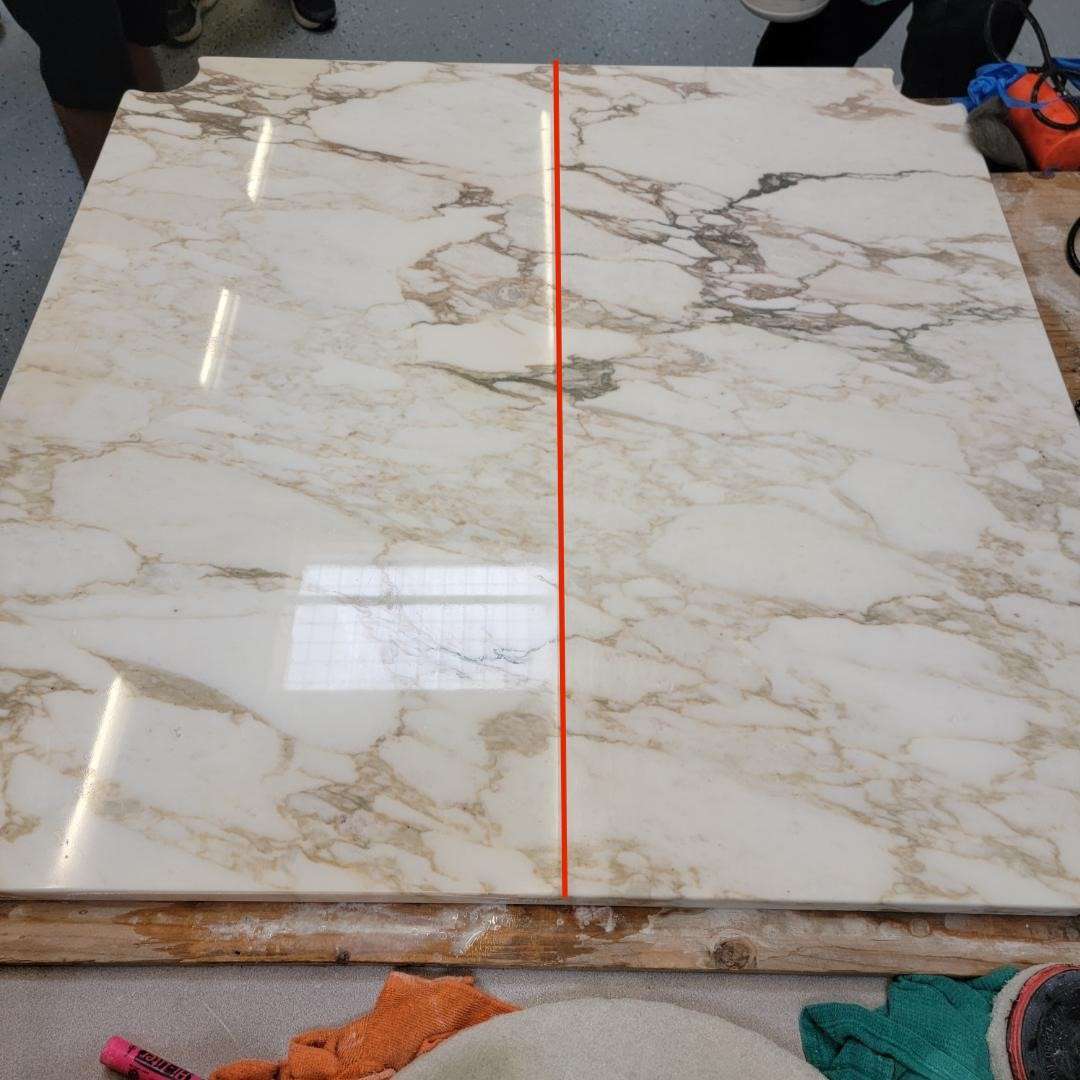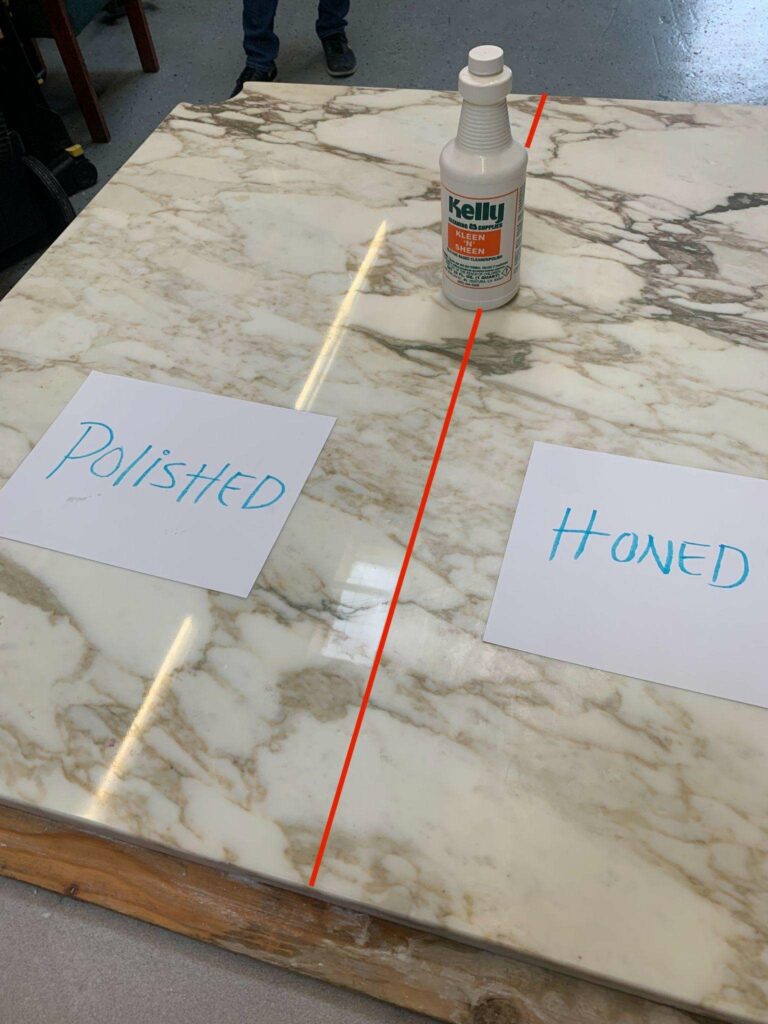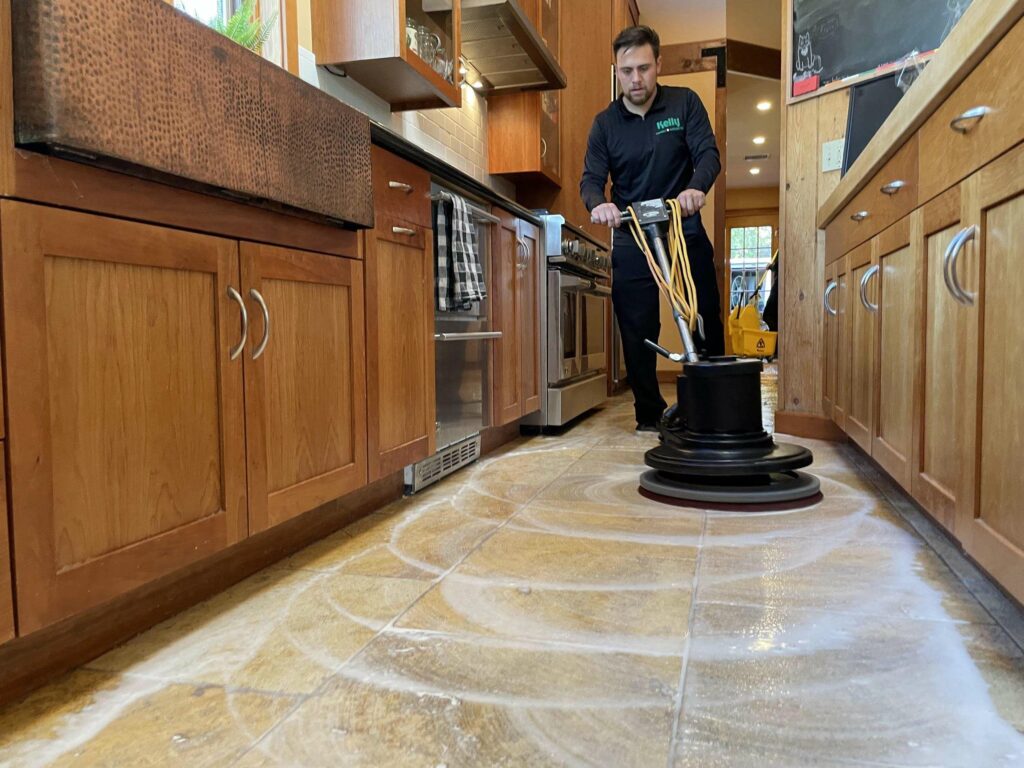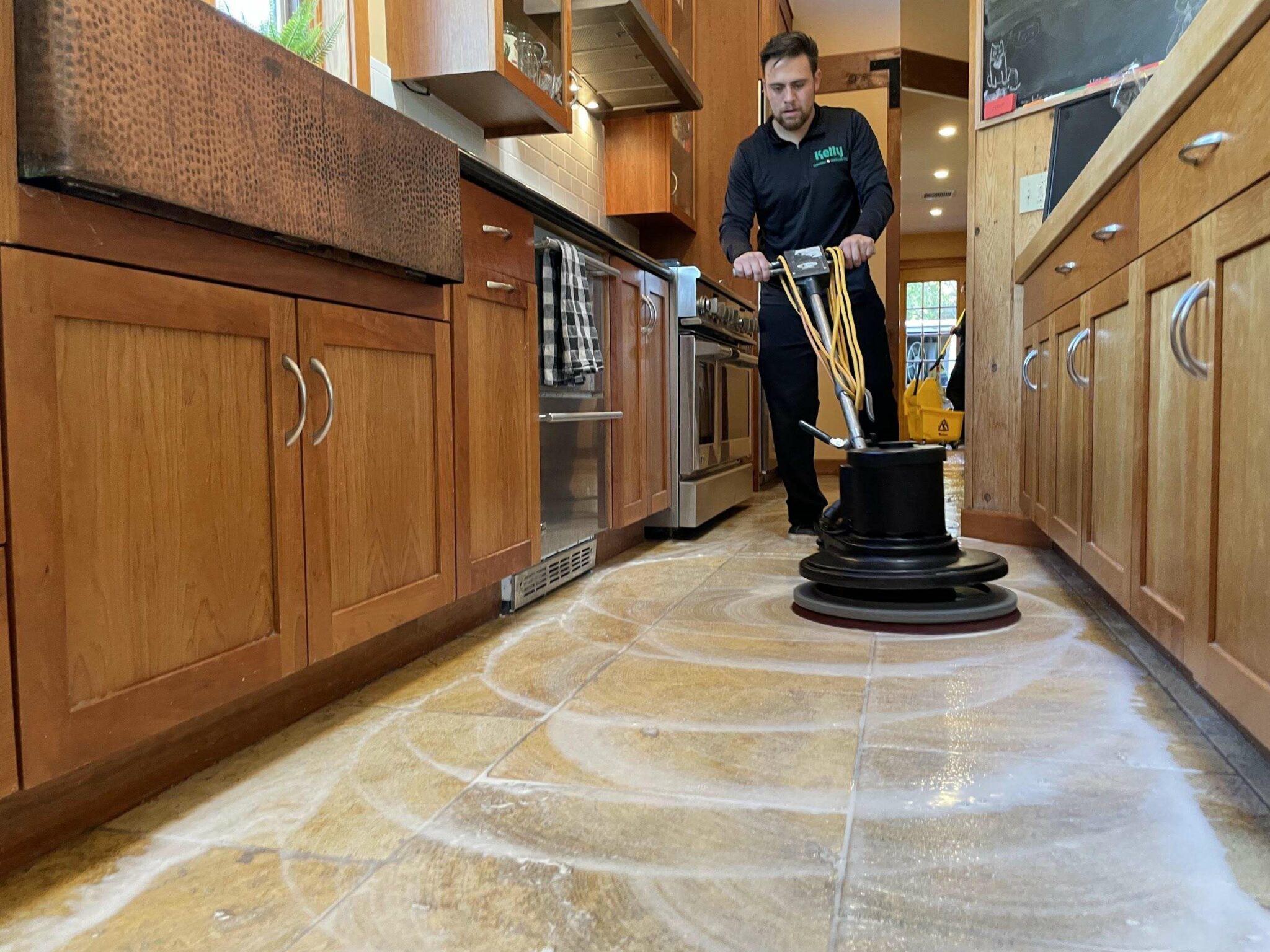 Omar carefully cleaning travertine tile in a narrow kitchen
Visit our Kelly Tech Center for all of your cleaning needs at 2300 Knoll Dr. STE B
Visit our Ultimate Rug Spa at 1445 Donlon St. STE 2
Kelly Tech Center
2300 Knoll Dr. Suite B
Ventura, CA 93003