KELLY SOLUTIONS
We have the Solutions for Your Cleaning Needs
Carpet Cleaning in Santa Barbara
To us here at Kelly Cleaning, carpet cleaning means a lot. In 1978 the founder of Kelly Cleaning was one of the very first women in the entire country to boast using the amazing power of truck-mounted carpet cleaning. Margo was part of the Rug Doctor team that was inventing and designing this new and innovative equipment. She was their Guinea pig.
Now Kelly Cleaning has all of their Technicians skillfully trained in the art of carpet cleaning! In the pictures associated with this article we see one of our newest Technicians, Andres, doing an amazing job on steam cleaning Zebra Printed carpet. Andres and Antonio did such a great job that they received a hand-written review from the homeowner complimenting their excellent service!
These reviews are not so uncommon, we often receive many compliments from our customers! Our Technicians are proud of the work that they perform and are always willing to go above and beyond the expectations of our customers.
If you are interested in having your carpets or your upholstery cleaned, give us a call at (805) 644-5308 to schedule your cleaning appointment.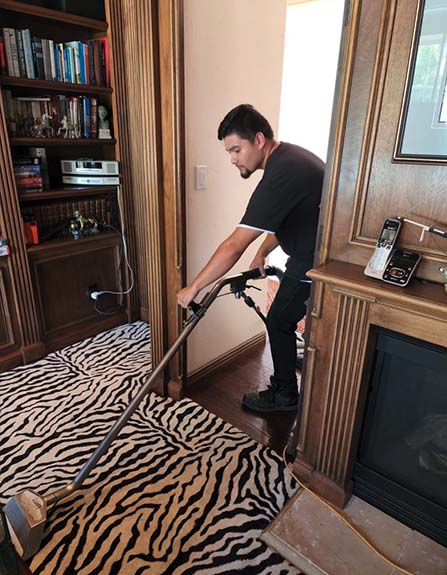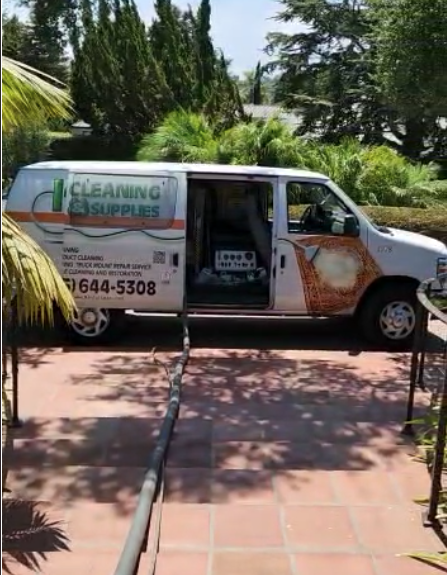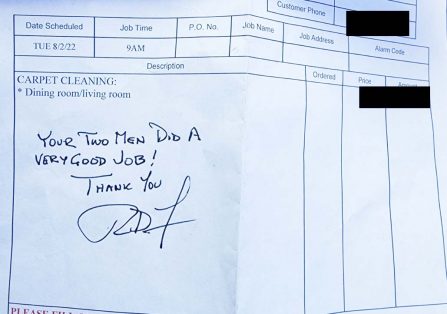 Sierge, I have washed my gym clothes everytime after I wear them, yet I still can't seem to get rid of the sweaty smell! Is my washer machine not working or am I just that stinky? What can I do to get rid of the smell? – Veronica
Dia Duit and may the road rise up to meet you! Seems like ye've been working hard, Lass. Luckily, I know of a simple trick that might be able to help ye with odiferous gym clothes. There is one cleaning solution that many of us don't utilize but does an amazing job of getting things clean and smelling odor free. This solution is distilled vinegar. And don't worry, your clothes won't smell like vinegar.
Vinegar does an amazing job by breaking down zinc salts which will help remove dirt stuck on your clothing and vinegar has antibacterial properties. Bacteria that are stuck on the stinky parts of your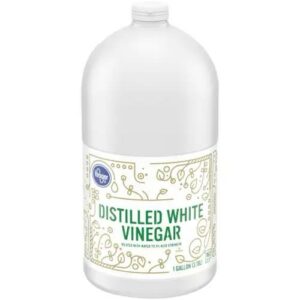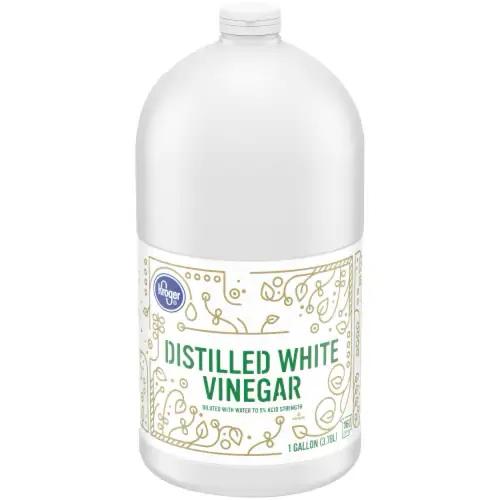 clothes will not stand a chance against vinegar, thus removing the smell at its source since bateria is the cause of your smell. Just add a few glugs of vinegar in addition to your detergent; and what I like to do is add the vinegar into the bleach and softener dispenser. This will help clean your dispensers as well as dispense the vinegar throughout the wash.
If you really want to get the most out of your deodorizing, I would recommend that you spray a bit of Kelly's Irish Mist to leave your clothes smelling fresh and with no bad odor!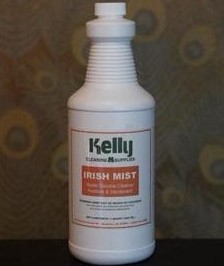 In this new segment for the Kelly Solutions, we will give a brief history lesson on things we clean that we find interesting. This first edition will be on stone kitchen countertops!
Throughout history we have recorded and documented various types of living setups and we find that kitchen countertop materials to be interesting. We will start in the late 1800's during the Late Victorian Era, during this time wooden tops were the most common as wood was the most used material when creating anything during this time period. Most of the countertops in this era were also free standing tabletops, unlike today where most if not all countertops are built in units.
Moving forward from 1900 to the 1950's white tile in a plethora of different styles was king. This was in part due to the focus on sanitation and tile is one of the easiest of materials to clean. But tile wasn't the only material that was used during this time, in higher end luxury homes we began to see things such as marble or granite countertops. Another popular trend was to cover wooden countertops with different materials such as laminates or melamine.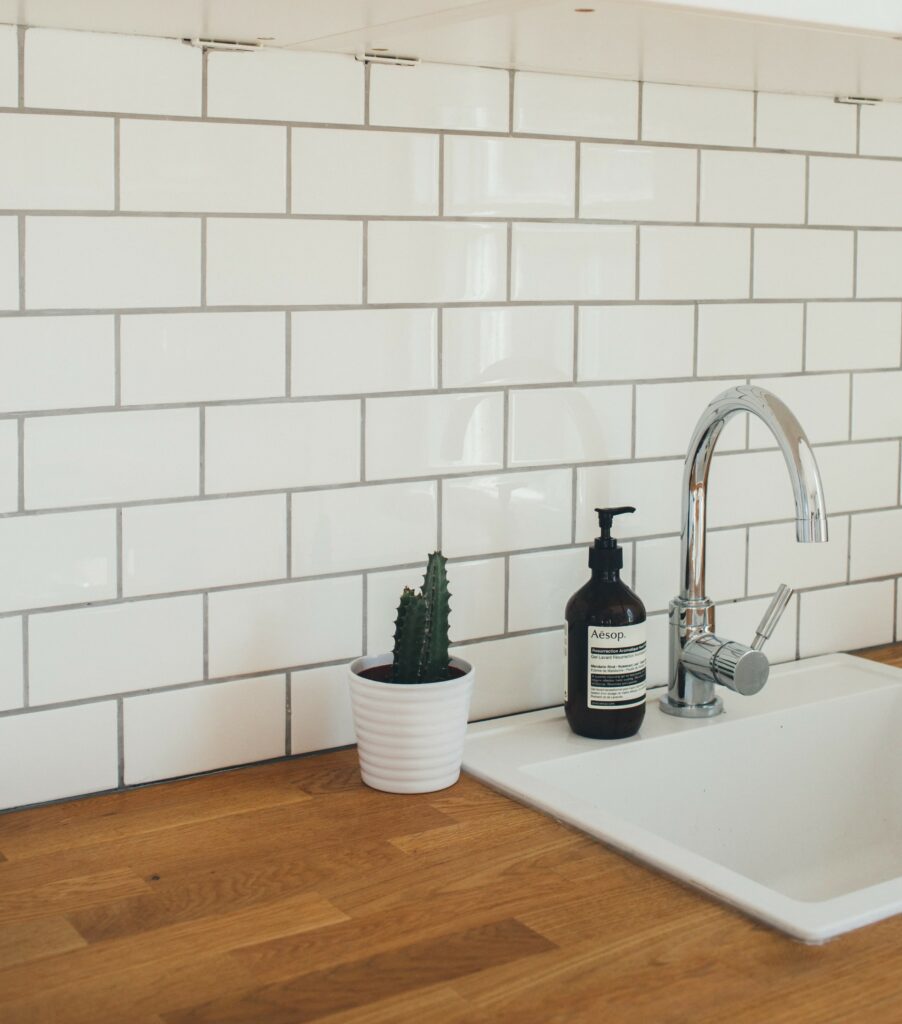 It wasn't until the 1950's where tile was overtaken as material of choice for formica. Formica was all the rage since it was able to take on the appearance of more expensive materials at a fraction of the cost. This material stayed popular until the 70's when granite came to the center stage.
Granite continues to be the most popular choice of material but due to its price, it is not the most commonly used material in new homes. The most common material used in homes is quartz. Quartz was created in the 1960's but gained massive use in the early 2000's and is still the most widely used material due to its low price and high customizability, But, throughout time true stone countertops were the pinnacle of every home builder's desires.
Whichever material you have in your home, none are free of maintenance or care. Kelly Cleaning can help you restore and maintain your stone & tile. Our technicians have received training in all cleaning methods and many restoration techniques. Give us a call at (805) 644-5308 if you have any questions or would like to schedule your cleaning appointment.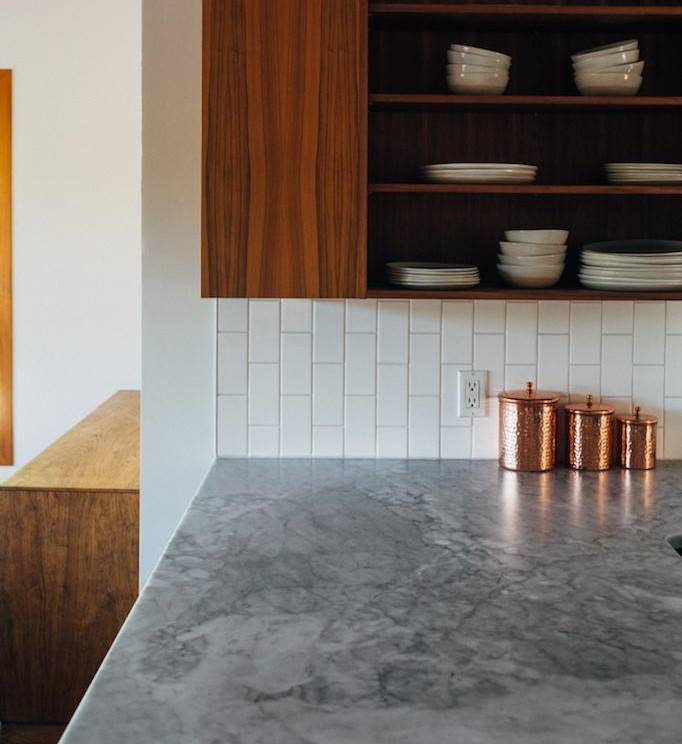 Visit our Kelly Tech Center for all of your cleaning needs at 2300 Knoll Dr. STE B
Visit our Ultimate Rug Spa at 1445 Donlon St. STE 2
Kelly Tech Center
2300 Knoll Dr. Suite B
Ventura, CA 93003