As every resident of Ventura County knows, the Thomas Fire was the largest fire in California history, and destroyed over 1,000 structures in Ventura and Santa Barbara counties. To be sure, this fire was a genuine catastrophe. Many residents lost homes, countless personal possessions, and irreplaceable antiques, relics, and personal keepsakes. While personal treasures can't be directly replaced, a disaster such as the Thomas Fire does present an opportunity for the community to persevere in a variety of ways. While no one would ever wish for the damage that affected residents and their properties, there is a unique opportunity for local service professionals to help residents repair the damage.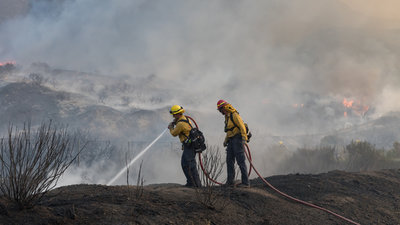 It is very unfortunate that out of this devastation service and merchandise companies are making a fortune on fire victims' misfortunes.
There has been a pattern of companies overpricing their services and their products to victims of the fire. While this is a common pattern throughout the United States in areas affected by floods, hurricanes, and fires, it's always disappointing to observe, especially when it occurs close to home. Raising the prices of services and products to individuals who don't have realistic alternative solutions – especially when the precise reason for the price increases is because they don't have realistic alternative solutions – fits the classification of price gouging and unethical business practices.
Many of these service providers justify the practice by reasoning that insurance companies are paying for everything.
Firstly, this is not true in every case. Insurance policies have set schedules of what they will pay for each incident, and anything above what is on the insurance companies schedule is paid for by the homeowner. Before the insurance kicks in the homeowner must pay their deductible, which could be extremely high and present a tremendous financial burden to homeowners. Not only have the homeowners lost their possessions, but many real people go broke trying to recover.
Secondly, the entire model of insurance is that everyone pays in so that everyone can be covered. In order to be profitable, insurance companies must take in much more money than they pay out for things like property damage and accidents. As a result, a disaster like the Thomas Fire increases the insurance rates of all homeowners, including those who weren't affected by the fire.
Keep in mind, insurance companies are made up of real people.
These companies employ thousands of individuals, and in many cases insurance is one of the few lines of work where individuals without post-secondary degrees can find well-paying jobs. A natural disaster which creates a dramatic influx of claims followed by unethical service providers unnaturally inflating the recovery costs could force the insurance companies themselves to reduce overhead costs by way of layoffs. Local service providers which can help in the recovery process will already naturally benefit from the increased demand for their services – some should even consider lowering their prices in a show of understanding.
Our Commitment to Restoring the Local Community That We Love
Kelly Cleaning has observed how some service providers are manipulating the aftermath of the disaster for their own financial benefit and we completely condemn this practice. After 40 years servicing Ventura and Santa Barbara counties, we are ingrained into these communities and are committed to the long term benefit of the area. Some of our staff were affected by the fire themselves and have a first hand understanding of how devastating this state of affairs can be.
As some of our latest customers (whom were affected by the fire) can attest, we are providing the highest quality service at the best rate possible.
Unlike some other companies, rather than gouge consumers who have no choice other than to pay for critical cleaning and recovery services (and performing subpar work in the process) we are doing our utmost to relieve the community's trauma for the best value to the homeowner.
Have Peace of Mind For Our Low Fees and Honest Service
If you're searching for professional help to clean air vents, eradicate smoke damage, clean soiled carpets, clean windows, or need any of the other professional cleaning services that we provide, please contact us. You can have peace of mind knowing that our cleaning fees are the same reasonable fees that we've always charged and we promise satisfaction for all of our cleaning services. Hope all is well.