Kelly has evolved since it started in 1978, as the quintessential Gone Hygienically Green cleaning service in Ventura County, Santa Barbara and Santa Clarita.
Originally a janitorial service and carpet cleaning company, in our quest to render the most superior service, Kelly Tech, our janitorial supply store was opened. Nationwide, Representatives from cleaning chemicals and equipment companies inform and demonstrate to us the latest and most innovative products in our industry.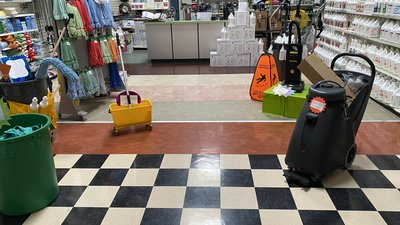 The multitude of healthcare facilities we clean necessitate us to practice the "dwell time" method of cleaning which is, allowing the Environmental Protection Agency (EPA) approved disinfectant we use to "dwell" on all surfaces for a full 20 seconds before wiping clean. It takes longer to clean but with the use of Personal Protective Equipment (PPE), microfiber cloths and hepa filtered vacuums we know it is the best way to protect our customer, their customers and our cleaners from bacteria and viruses.
To save energy our customers have installed in their homes and offices Solar Panels. The world is finding just how important the sun is for our environment and our health. In order to receive the best results from Solar Panels they must be routinely cleaned. We at Kelly Cleaning offer Solar Panel cleaning and protecting as another of our Gone Green services.
Our Techs at Kelly Tech are willing and able to discuss our Green Seal Certified chemicals and equipment to all who walk in.
You don't have to be a janitor to own our disinfectants, hepa filtered vacuums, microfiber cloths, mops and paper products to have your home 99.97% clean. All visitors are welcome. Our hours are 8:00 a.m. to 5:00 p.m. Monday through Friday. If you have questions call 805 658-8858