It's raining again, and being stuck inside is the perfect chance to catch up on house cleaning.
Having the best tools and supplies for cleaning makes any task easier, and will ultimately produce a better result. While we are dedicated to providing the best professional cleaning services available throughout Ventura and Santa Barbara counties, we're also the best resource for cleaning and janitorial supplies which we sell through our Kelly Tech Center.
The Kelly Tech Center retail janitorial store offers a huge array of cleaning tools and life improving chemicals. This is a goldmine of cleaning utensils and eco-friendly chemicals that help you clean at a higher level and get the job done faster. Cleaning can actually be fun when you have the best supplies.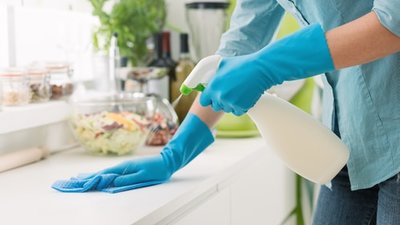 You'll find the Tech Center has tools and supplies you may not even know exist. Some key tools which have very practical uses include:
Telescoping Poles
If you have vaulted or cathedral ceilings, telescoping poles can be used to reach the highest points. Telescoping poles come in different lengths: eight-foot poles work great for reaching the top side of door and window frames; and our 24-inch pole (Henry's Handle).
Pumice Stones
These provide a natural way to remove hard water deposits in toilets and around fixtures like bathroom faucets. Many homes in Ventura and Santa Barbara counties have hard water, so this is a common problem.
Squeegees and Wash Strippers
Perfect for washing windows on the inside. Insects, mildew buildup, and residues build up gradually inside and outside of windows, and squeegees and wash strippers make it easy to detail windows.
Hardwood Floor Cleaners
We love the trend of newer homes and recently updated homes using hardwood flooring. Dogs, furniture, boots, heels, toys, and all kinds of common household items cause scratching and general wear and tear. We can provide you with hardwood floor cleaning supplies to protect your beautiful floors.
Retail Janitorial Store in Ventura, CA
The Kelly Tech Supply Store staff are more than happy to offer suggestions and tips to the homeowner for their various cleaning needs. We want our customers to be able to achieve the results they desire with our cleaning products. Our store is located just around the bend at 2300 Knoll Drive, Suite B, Ventura. You can always call if you have cleaning questions at (805) 658-8858 or email your questions to KellyTech@www.kellyclean.net.
If you don't come now while it's raining you might lose the urge to dig in to a nice deep cleaning when the sun comes out. If that happens you can always call Kelly Cleaning at (805) 644-5308 to do the job for you while you go play some tennis. We will give you an estimate FREE.