Professional healthcare cleaning has long been a forte of Kelly Cleaning. We've worked hard to establish ourselves as an industry-best resource of hospitals, medical clinics, and other facilities regulated by OSHA standards and guidelines.
Our excellence in this arena has been recognized by Community Memorial Hospital.
CMH has the goal of providing the most advanced and modern healthcare facilities in the local area and to create an environment in which the best possible healthcare can be practiced. As part of this mission, Community Memorial Hospital has built two new 280,000 square feet per wing facilities and a parking structure in order to provide the latest up to date facilities for their patients.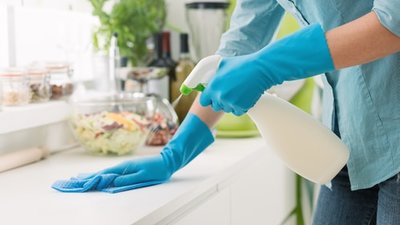 We've been working with CMH for a few years building a strong working rapport that has resulted in having immaculate clinics to the benefit of both patients and staff. The hospital administration requested Kelly Cleaning to perform the construction clean up for their new buildings in order to ensure, when the buildings were ready to be occupied by patients and medical service providers, they would be spotless and environmentally air pollutant free. Kelly has the experienced technicians and state of the industry equipment needed to pull off this highly fastidious feat.
Because of the strong working relationship and the superior service provided, CMH has awarded Kelly Cleaning seven more facilities to be maintained on a nightly basis. This work demonstrates that we have earned the highest level of trust from an elite healthcare provider.
We look forward to maintaining immaculate facilities 7 nights per week, and CMH can rest assured the high cleaning standards demanded will be received.
Healthcare facility cleaning includes many procedures and cleaning tasks including:
Sanitize exam tables including cleaning attached step.
Sanitize all equipment attached to walls.
Wipe down and spray disinfectant on overhead air vents.
Use antimicrobial chemicals on all hard surfaces allowing dwell time before wiping down.
Community Memorial Hospital has made a great decision to contract Kelly Cleaning. Years to come CMH will be delighted with the cleanliness of their buildings and the good health of their staff and patients.
Kelly Cleaning
Commercial Cleaning – Ventura County, Santa Barbara County